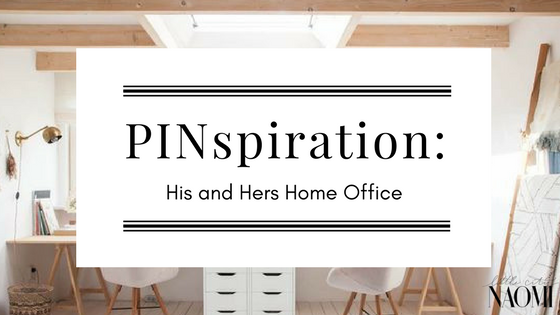 Hellooooo!
And we're back to our regular scheduled program! Took two weeks off and I'm B A C K!
I'm finding that life is NOT slowing down at all these days. I just keeping telling people, "oh, you know we're just super busy." I guess that's just life.
But if we're being honest here…I'm feeling pretty overwhelmed with everything we have going on right now. It would take me years to explain every little piece of our current lives…so I won't.
In summary: Aaron and I are both working at our full-time jobs while also trying to manage 3, yes three, new businesses! One of which is Little City Naomi (YAY!, things are going well and it's ALL because of each and everyone of you!), another one is Shinn Farms (Aaron's own farming business which is ALSO doing well as long as you all keep drinking wine;) ) and the other one I can't share quite yet. All I can say is that a dream and an opportunity collided in an amazing way and you won't know about it for awhile. Sorry…haha!
It's good though, I promise!!
Whew!!! So yeah. We are a little busy. In fact we have never been busier. It's hard and tiring but I will say, we are SO excited for the future. You have to hustle to see your dreams come true.
All of that to say…we need to create a space for each of us to work from home. The past couple months we have both come home from work to continue working on our other "jobs." We fight over who gets the laptop, have paperwork strung all over the house, and try to work from our couch. It's just not working anymore. When it was just one of these "jobs," it was totally fine. But now that it's basically five different "jobs" we are losing our minds!! We need some organization and structure in our life. ASAP
I am SO excited to create this space in our home! I loveeee to organize and make things look pretty. It will be a fun project and hopefully increase some productivity around here.
I am currently writing this in our bed with our two pups laying on top of me and Aaron snoring away. I mean it's nice to be with my family but I know I would be SO much more productive in my own office space…with my own computer or laptop.
You get the gist.
These office spaces are very simple but also warm and inviting. I want to create a space that we want to hang out in. I like warm elements like different textures of wood, mixed in with the cool tones of black and white. Throw in some big, cozy chairs, throw pillows, two dog beds and there you have it, the Shinn Family Office!
Do you work from home? What are your keys to success?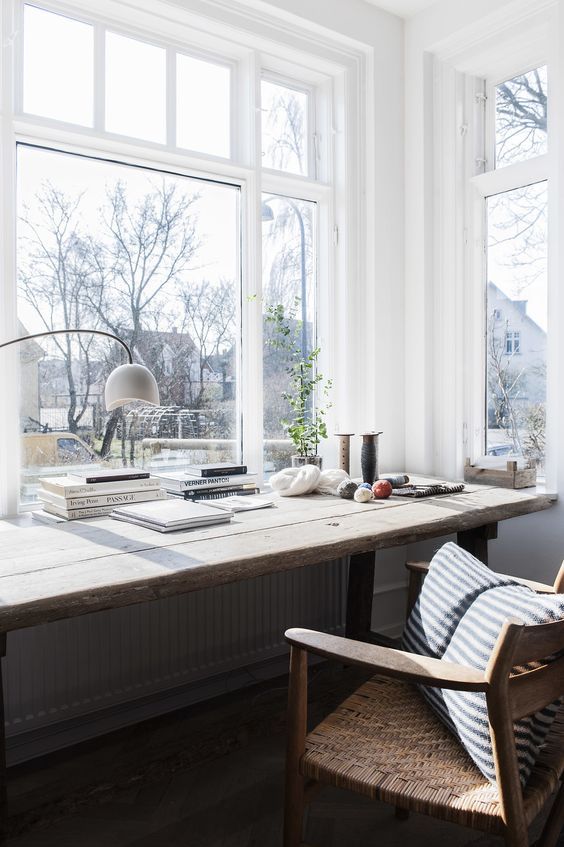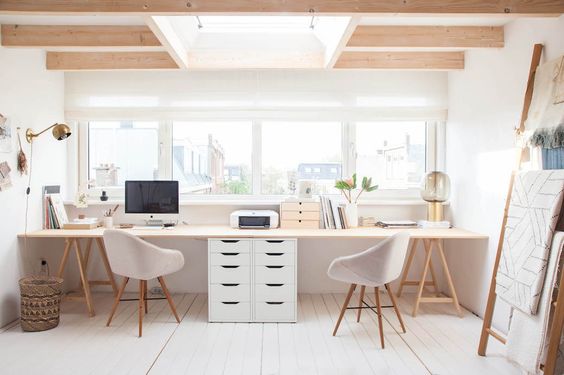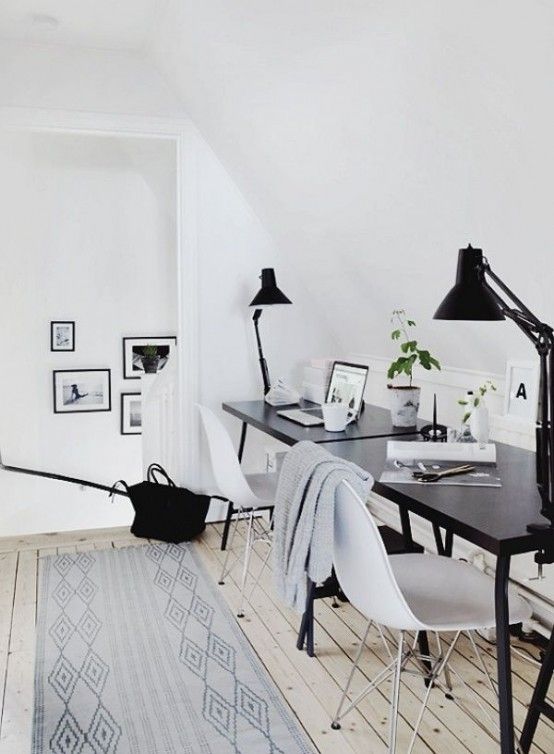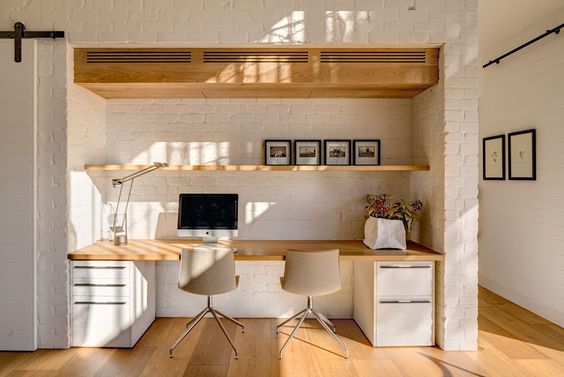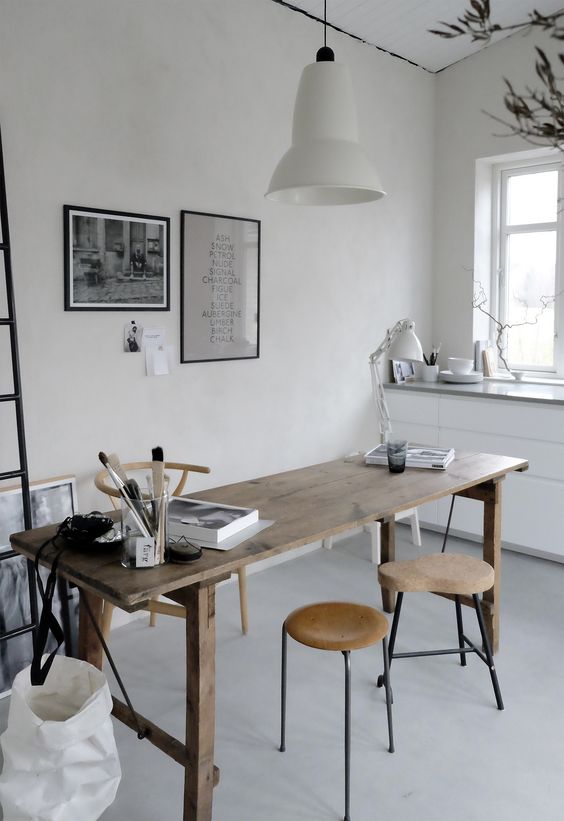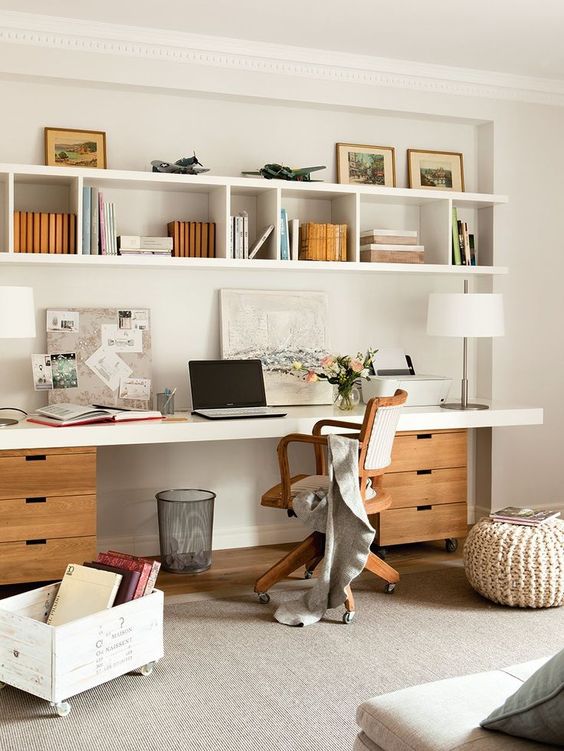 Make sure you "pin" these office photos to your very own Pinterest page! And follow me on Pinterest here for more inspiration every week.
I think the most important key to success is taking the time to stay inspired.
xoxo, maddie