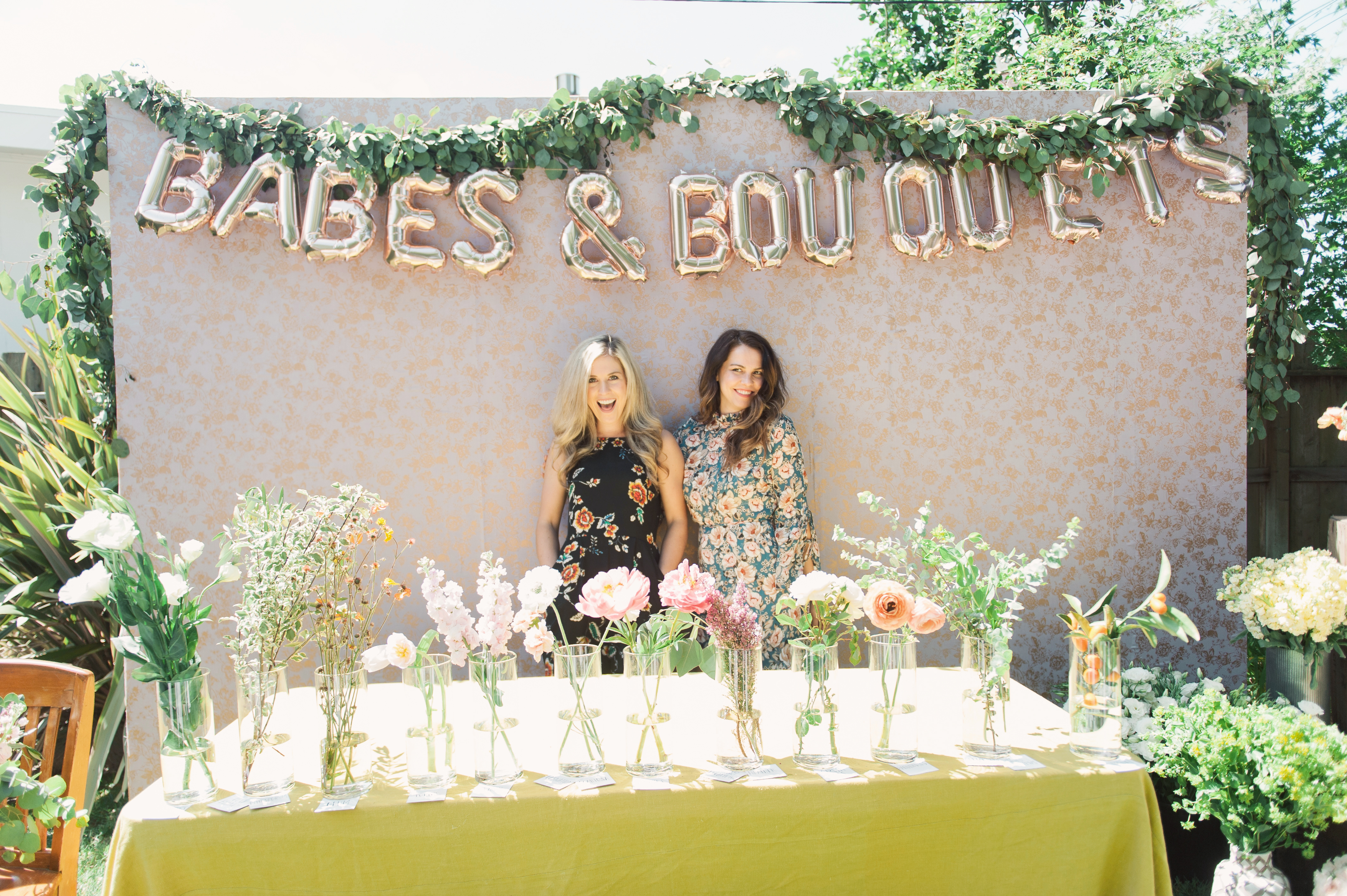 A Little City Naomi x Huckleberry Blooms Collaboration
I am SO excited to finally share all of the dreamy details of the event I collaborated with Huckleberry Blooms on last month…
B A B E S  +  B O U Q U E T S!
If you attended the event, you know how fun and girly it was…but for those who weren't there, I am bursting at the seams excited to FINALLY share it all with you!
If you follow me on social media I was giving little hints to a big surprise for about a month before the event. Subtle hints here and there…basically little teasers!
Then the day finally arrived and we were having SO much fun that I basically forgot to Snapchat or Instagram the entire thing…whoops haha! I eventually remembered and started snapping away! Sorry to those who were anxiously waiting on the other end of the Internet world…you can see everything NOW!
Before we get too deep into all the pretty photos, I wanted to share how this event came to life…
I started writing and sharing photos here on Little City Naomi a couple of years ago when I was seeking a creative outlet. I had just started working as a Speech Therapist Assistant for the SJC Office of Education when I realized that I was going to need something more…so I started this, LCN. Not until this past fall did I really consider pursuing my blog as a career. I guess it was always a thought in the back of my mind, but it never felt like a real dream until a few months ago.
When that change occurred I knew I wanted to host some sort of community event. I wasn't quite sure what, or how or when but I knew that's what I wanted to do. Then my friend Anna Sinclair started her floral business, Huckleberry Blooms, this past January (YAY!) and it was like a light bulb went off!
I had recently seen a blogger I follow, Monika Hibbs, (if you don't follow her, you should!) host this intimate, girly, fun floral workshop that debuted a bunch of local businesses in her home town. (Check it out here!) And I thought, I can totally do that! But…make it so much better…. :)
Before I knew it, I was on my phone making lists, brainstorming names for the event and how I could make it more "me"? My husband, Aaron, was actually the one who came up with the amazing name, Babes + Bouquets! (Side note: He also came up with my blog name, Little City Naomi! He's so good at it!!) It sounds cheesy but as soon as I heard the name I got chills…I was so excited! So I immediately text Anna, even though I knew nothing else but the name haha…and was like…"OMG I HAVE THIS IDEA TO COLLABORATE ON AN EVENT AND THE NAME IS BABES + BOUQUETS!! Are you interested??" I'm pretty sure she replied within 2 secs with a big, "YES!" Haha! Once I knew Anna was on board, I started brainstorming the details of the event and how I could make it extra special by adding an element of community.
I loved the idea of a floral workshop…because A. Who doesn't love flowers? and B. Who doesn't love making pretty things with their friends? Answer: No one. So that was a must!
But I didn't want it to JUST be a floral workshop. Then the idea came to me.
For those of you who have no idea what a floral workshop is…let me explain. You purchase a ticket to attend an event that's hosted by a floral designer (a.k.a. florist) and this florist teaches you how to build various floral pieces like bridal bouquets, boutonnieres, or centerpieces. At the end of the event you take home the floral design you created to enjoy in your home or workspace. It's a win, win for all.
Well, I thought…what if we invited guests to come and attend this floral workshop, learn how to make a floral arrangement BUT they will give their arrangement away to a mother in our community…instead of taking it home to enjoy the fruits of their labor. I threw out the idea to Aaron and he loved it! And so did I.
Once this idea came to thought, I decided to hold the event the weekend before Mother's Day. This timing was perfect…each guest would create an arrangement for a mother in need from our community. I just needed a place to accept (possibly) FORTY arrangements!
After many calls and emails, Pregnancy Resource Center confirmed the acceptance of these arrangements and I am SO thankful. I knew this was a very different idea. Lots of logistics were involved. Many questions were asked…I was worried what the guests might think…would they mind spending money on something that they couldn't take home to enjoy??
But I was wrong. The response was beautiful. Everyone agreed that it was entirely more meaningful knowing that their arrangement would be given to someone in need. A mother who maybe had never received an arrangement before or never known what it was like to accept a gift like this on Mother's Day.
It meant so much to me. Everything from the pretty flowers, the smiles on everyone's faces and more as they created something beautiful for a complete stranger. It brought me SO much J O Y. And still does today when I look back at all of these pictures.
Absolute J O Y.
And now it's out there for all to enJOY…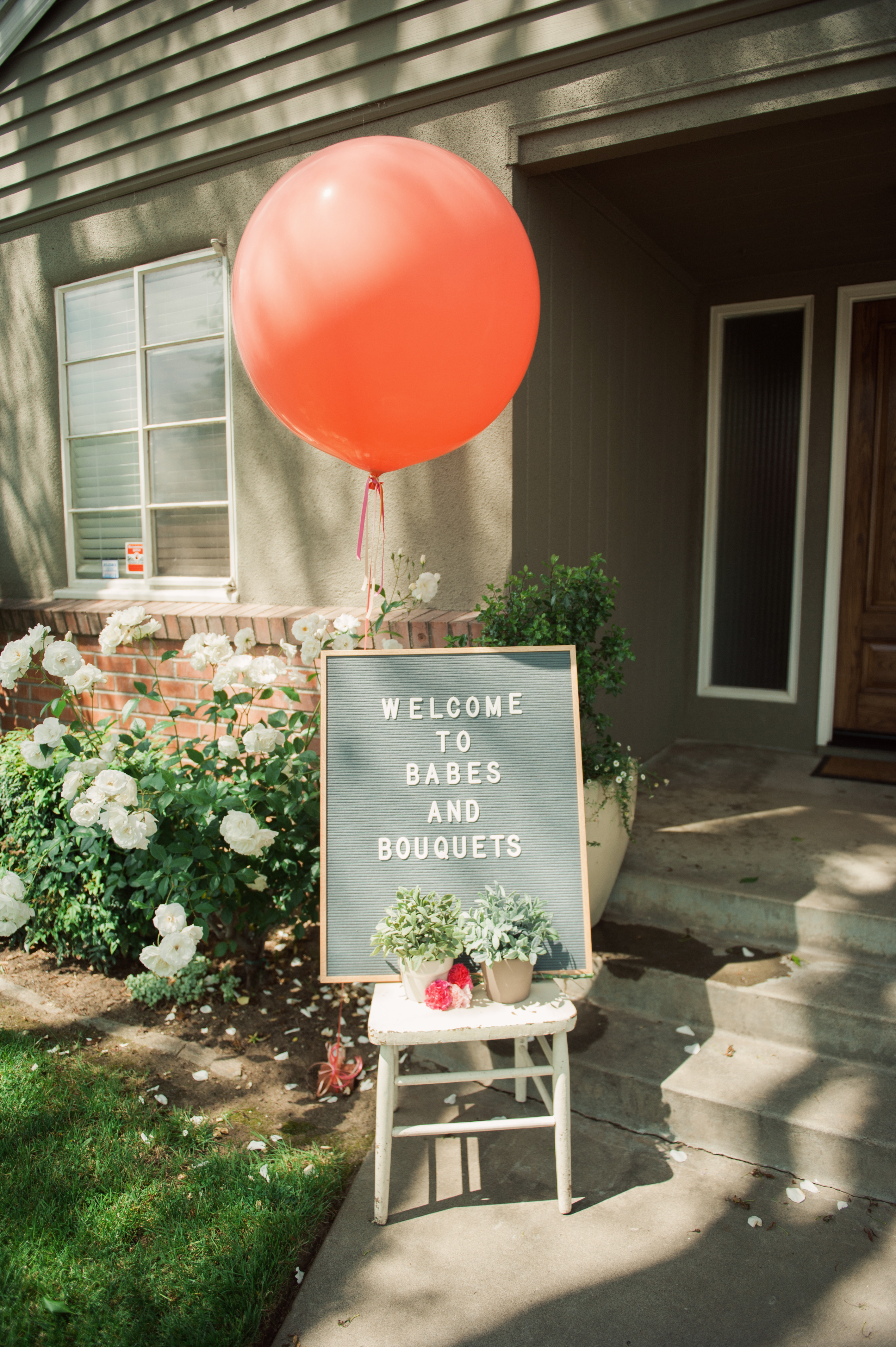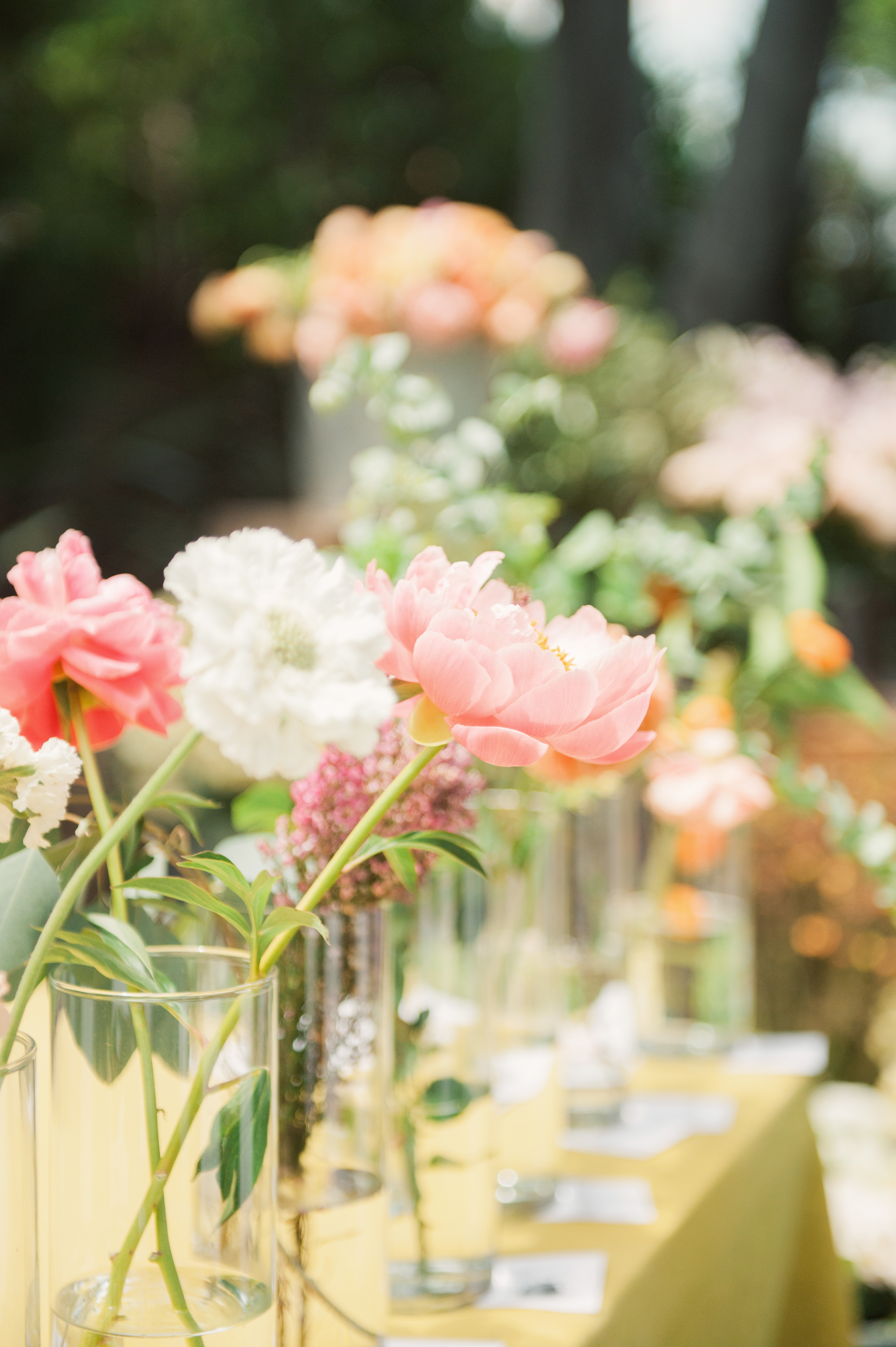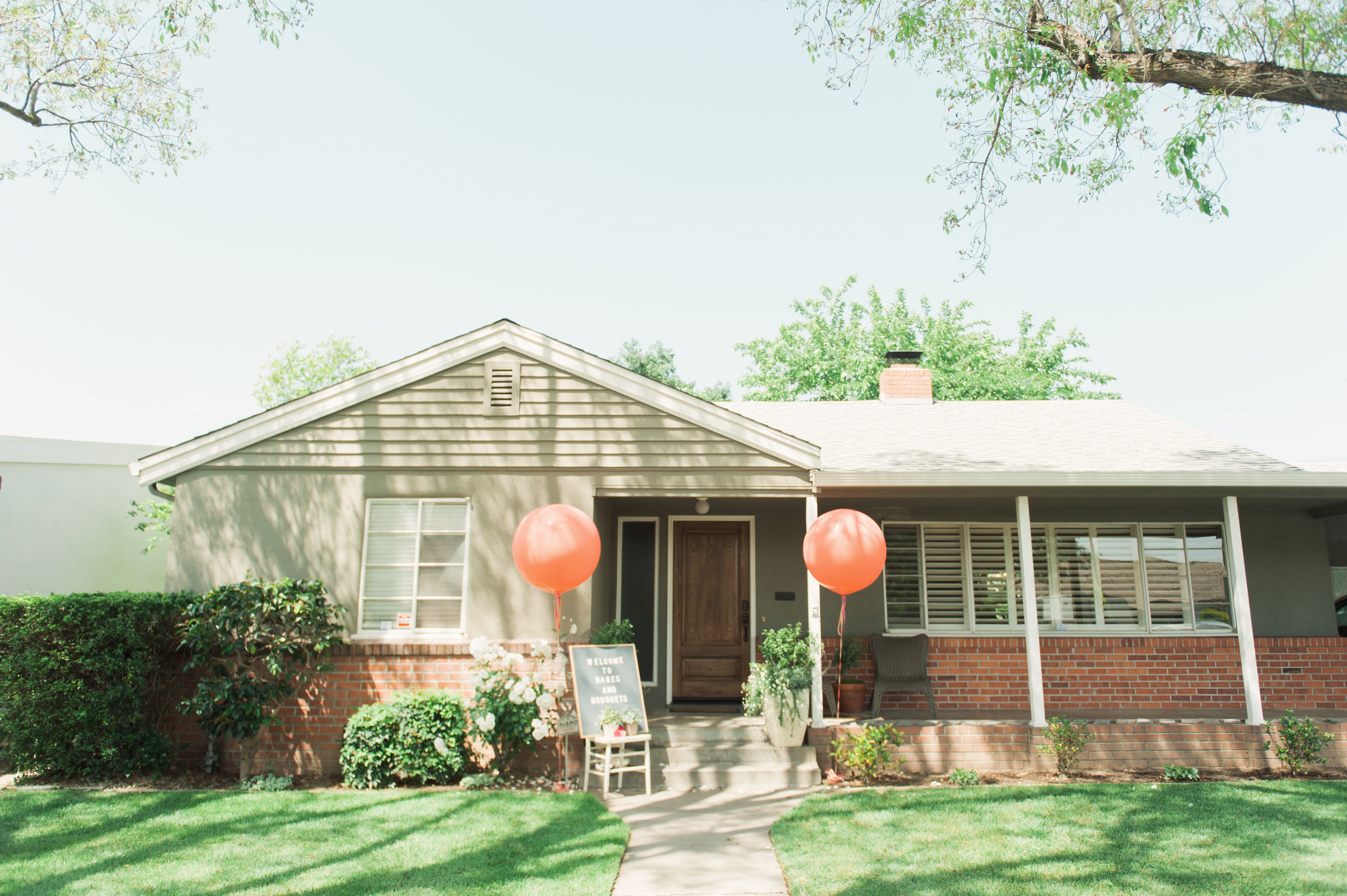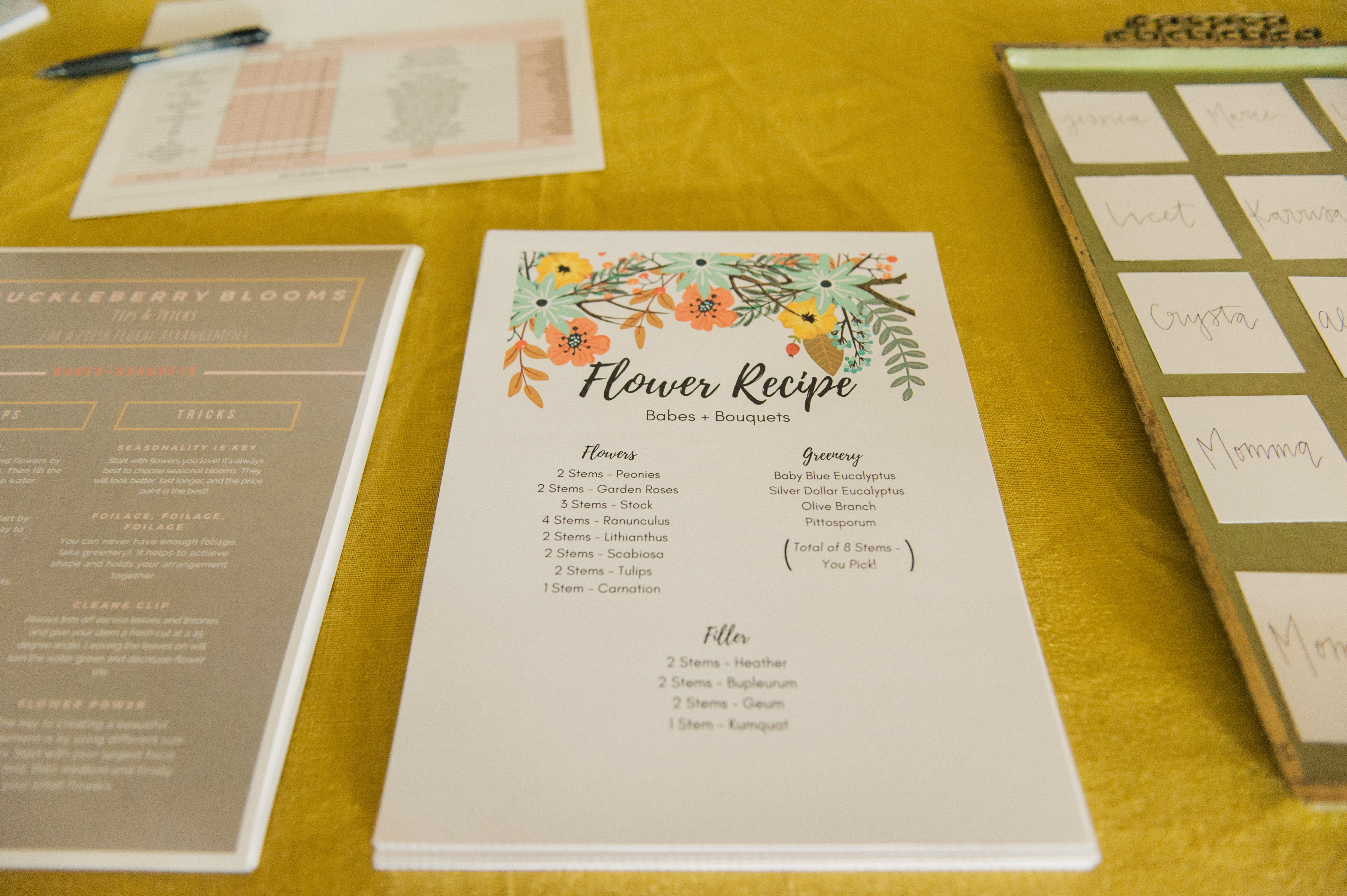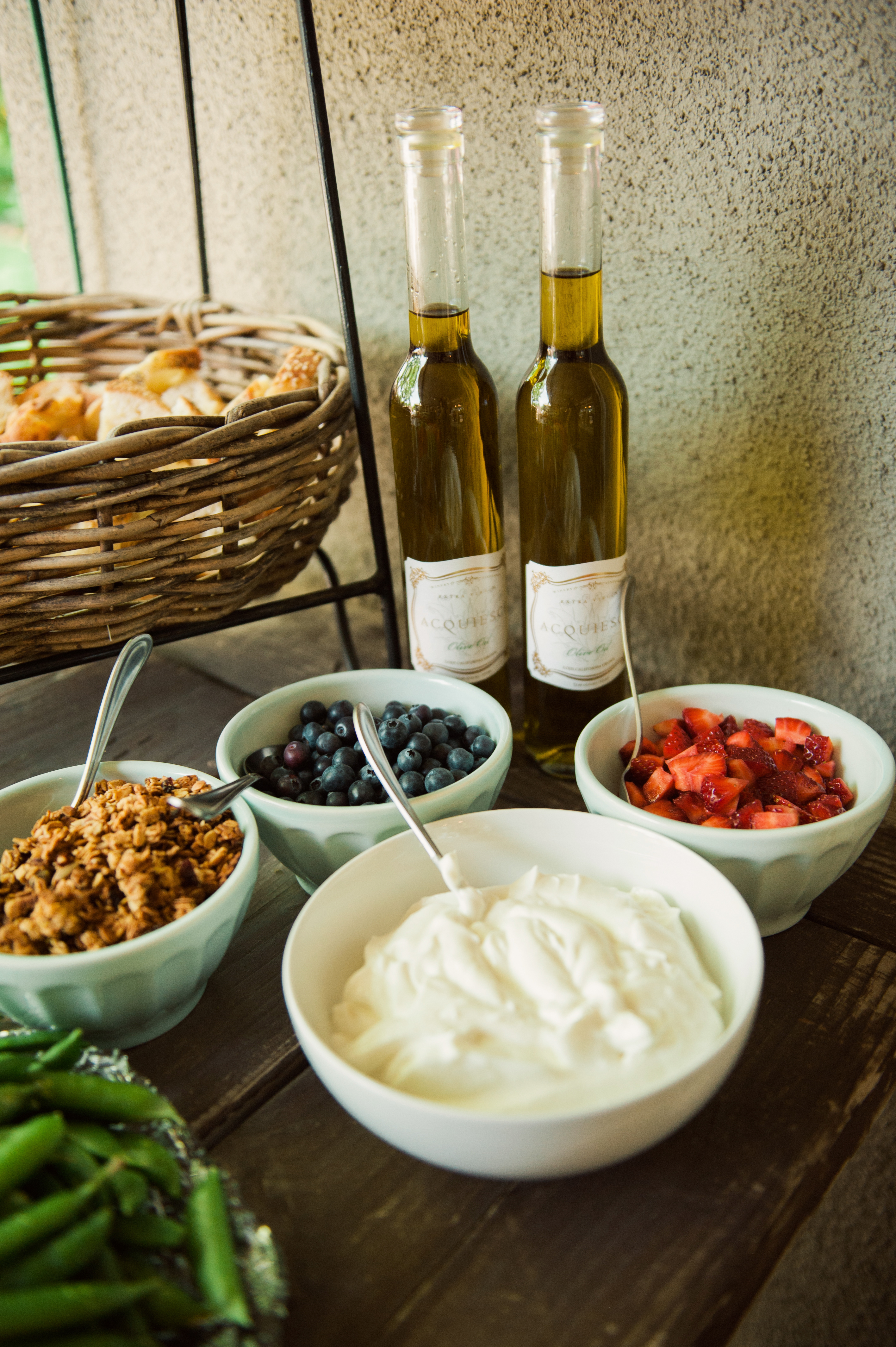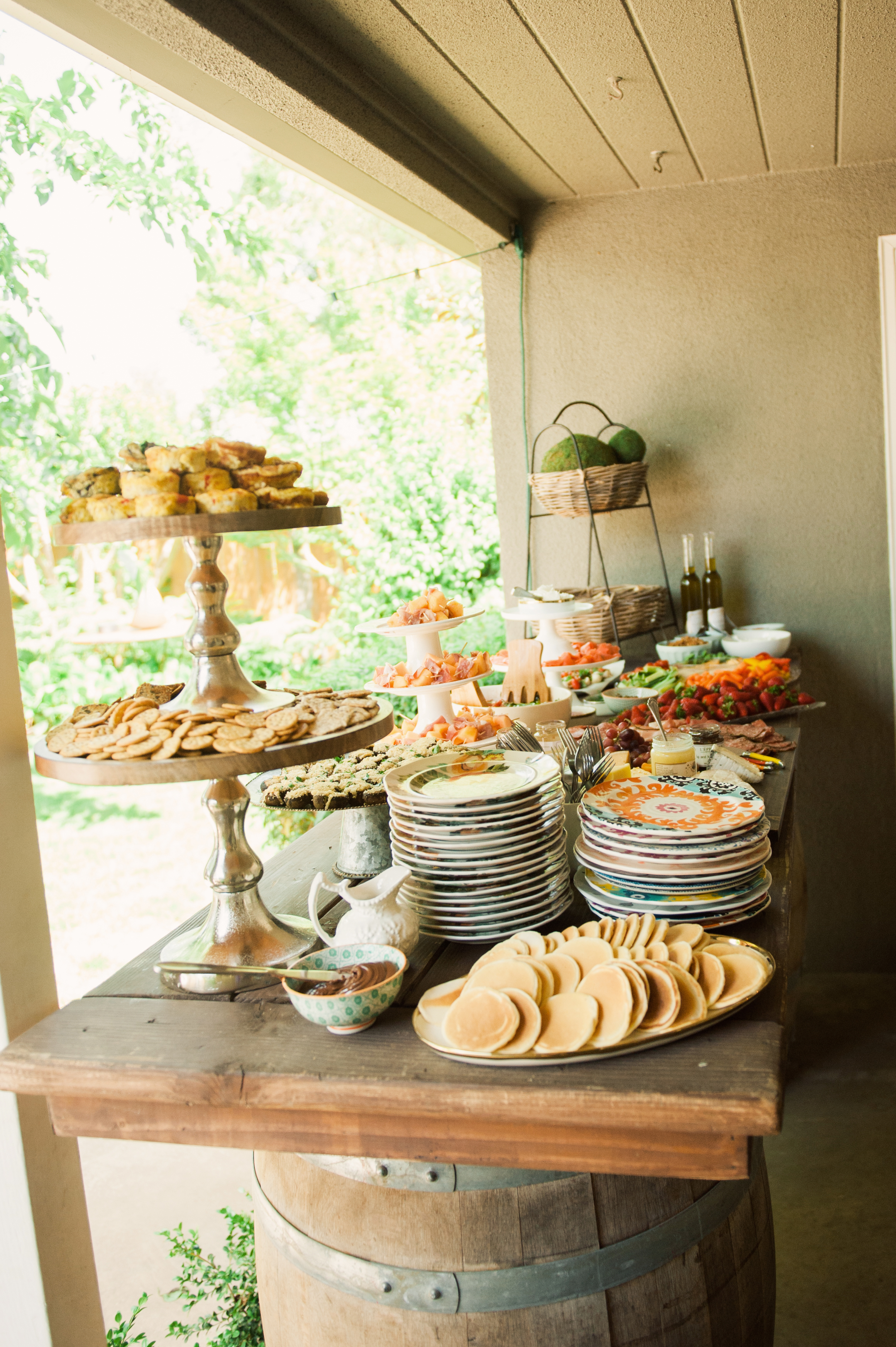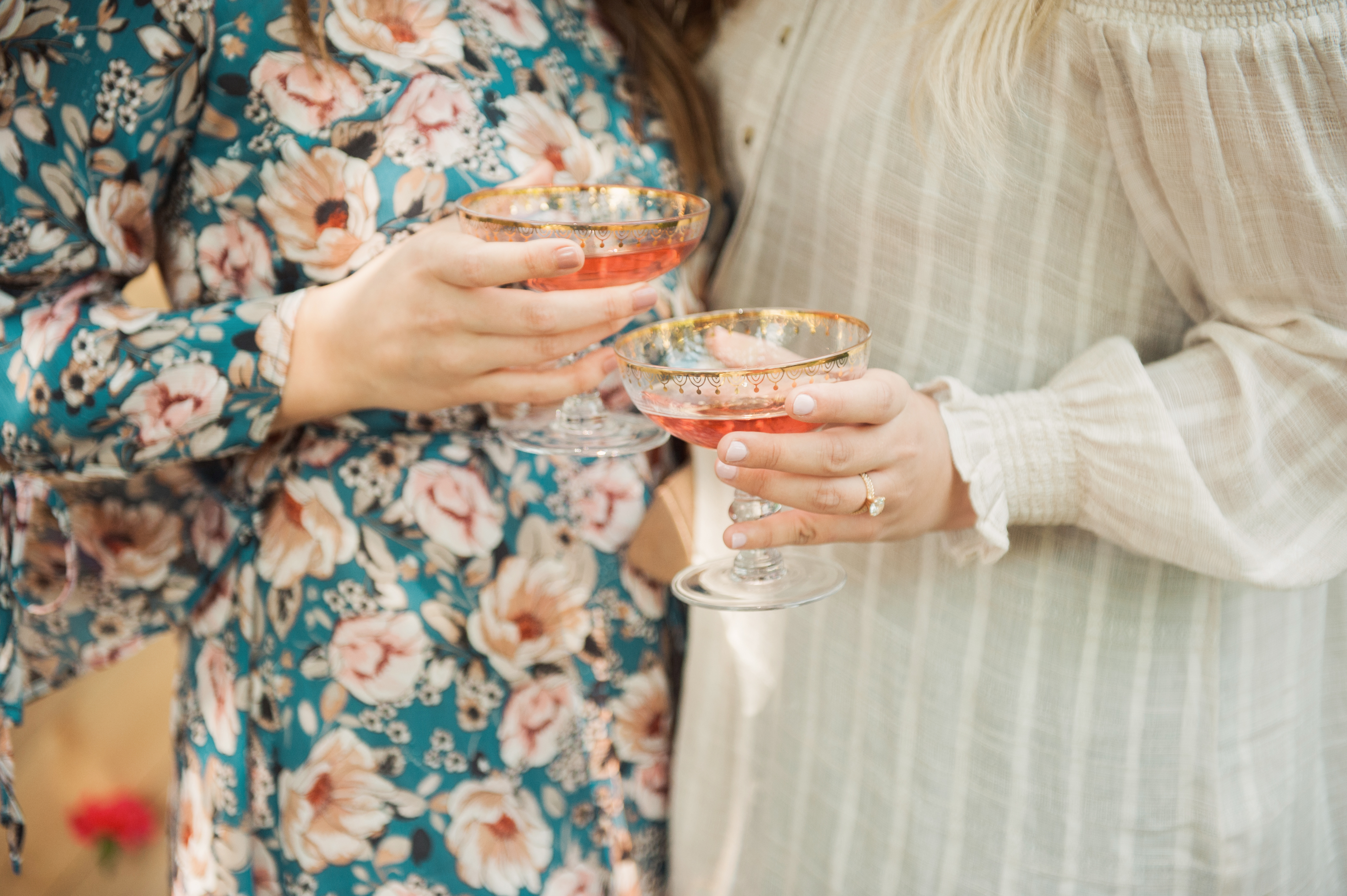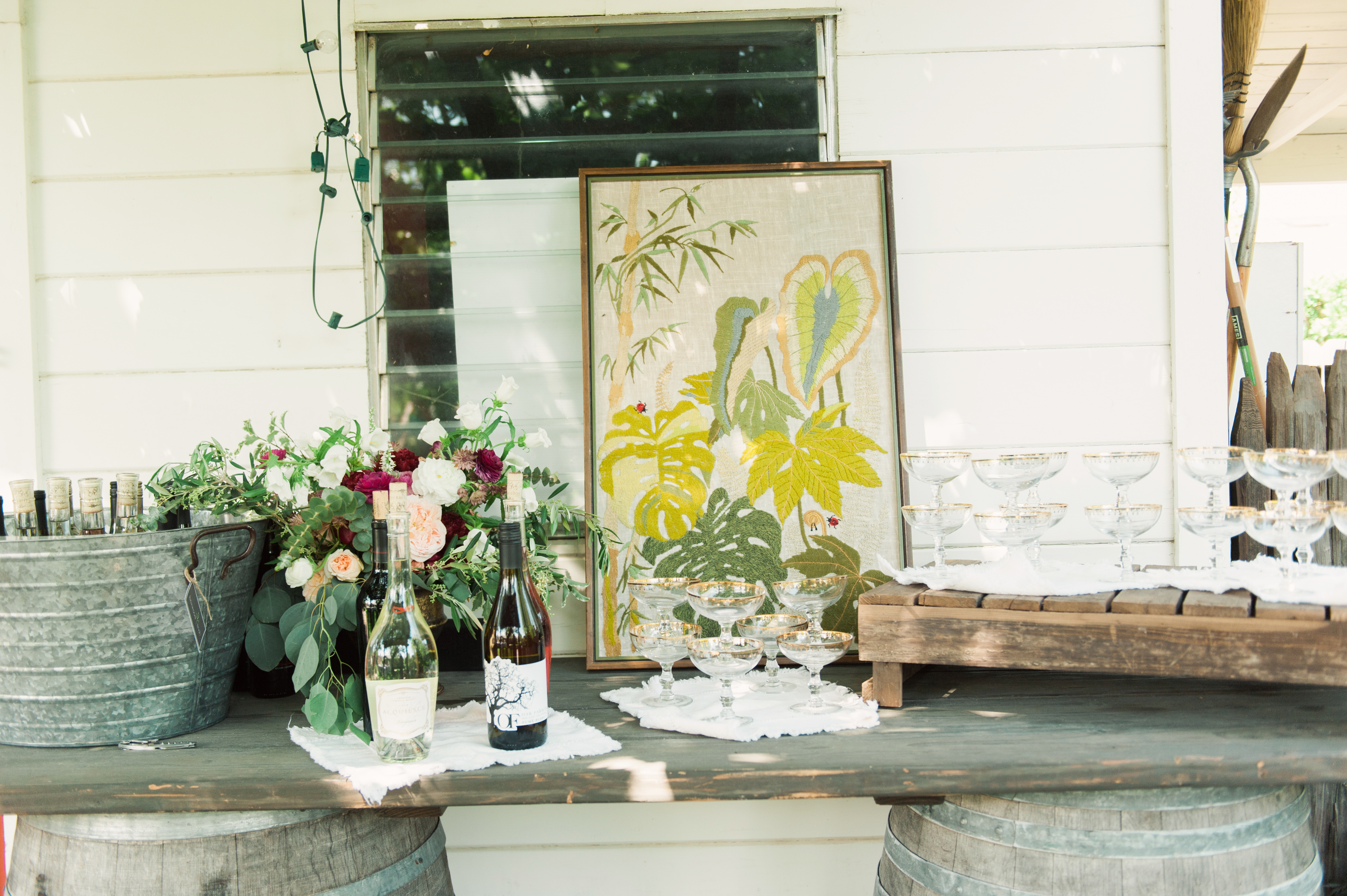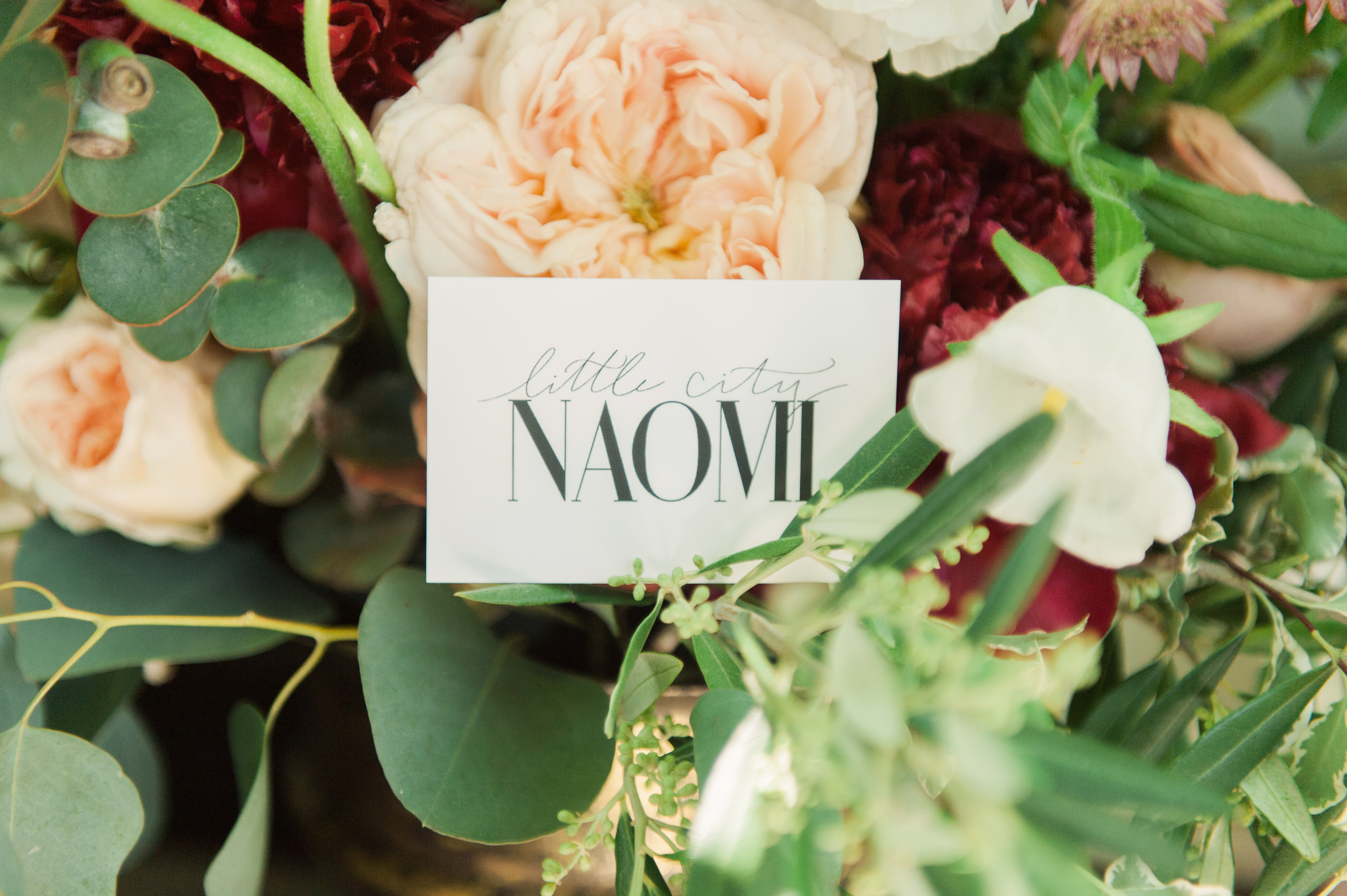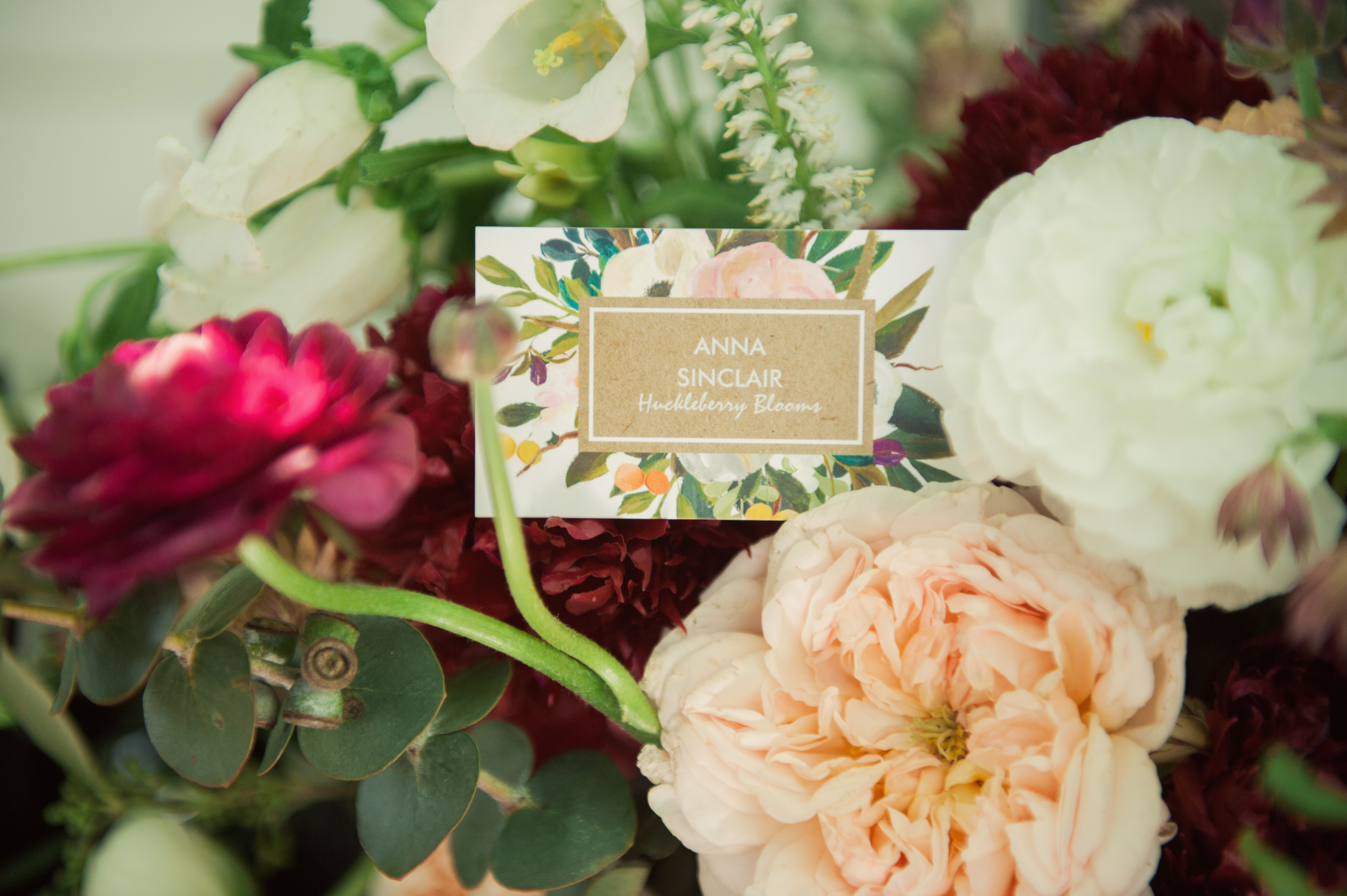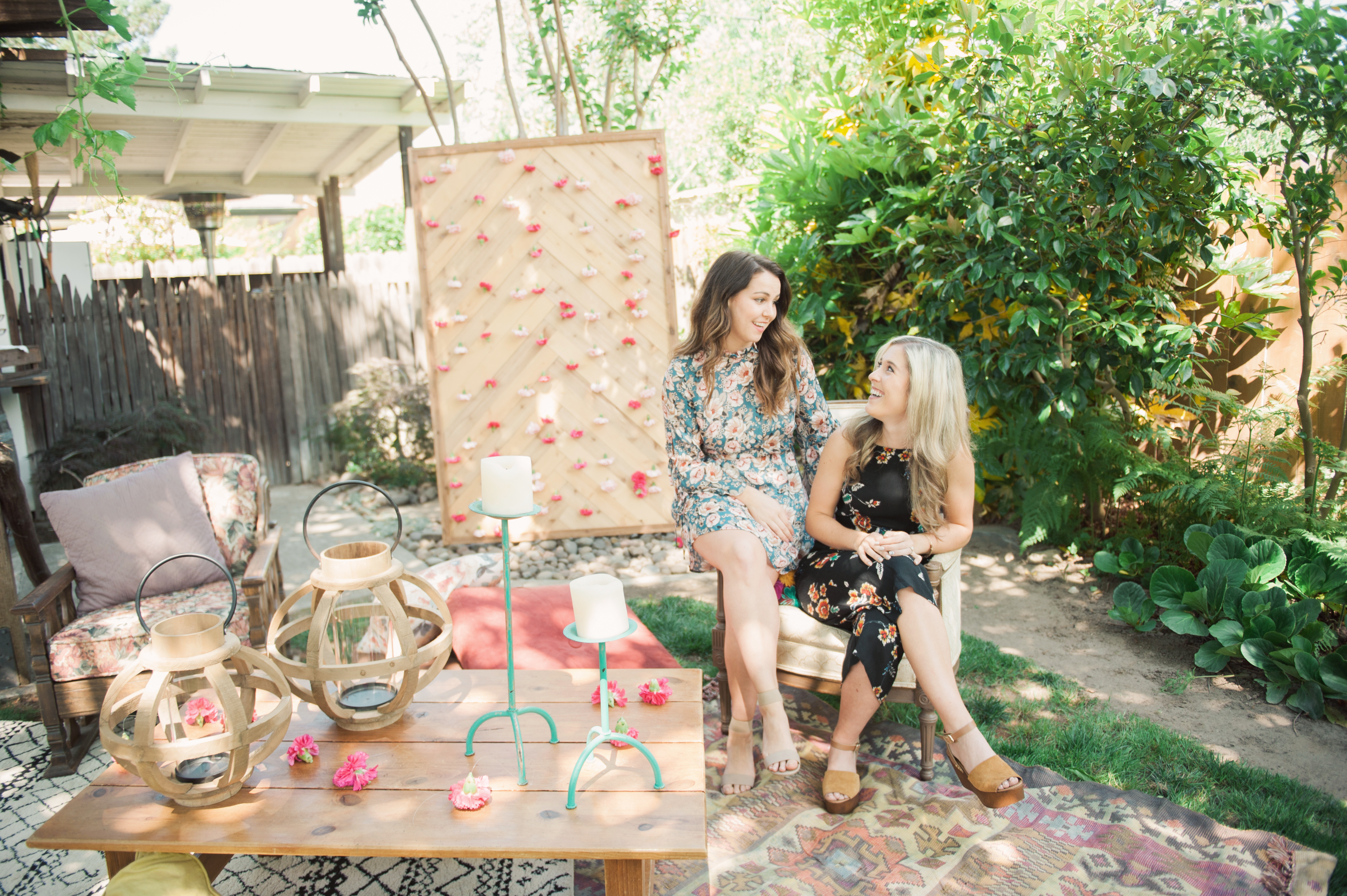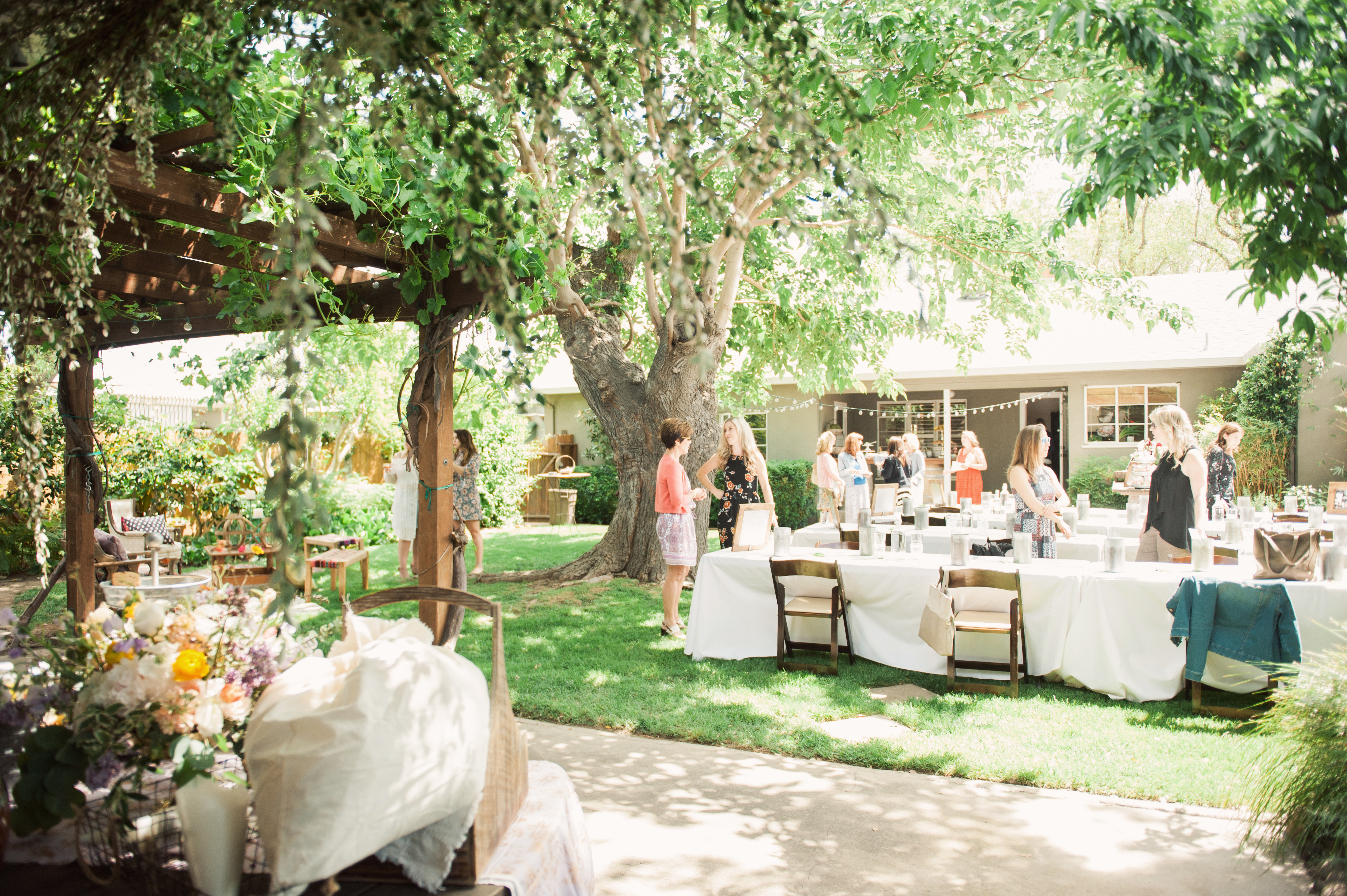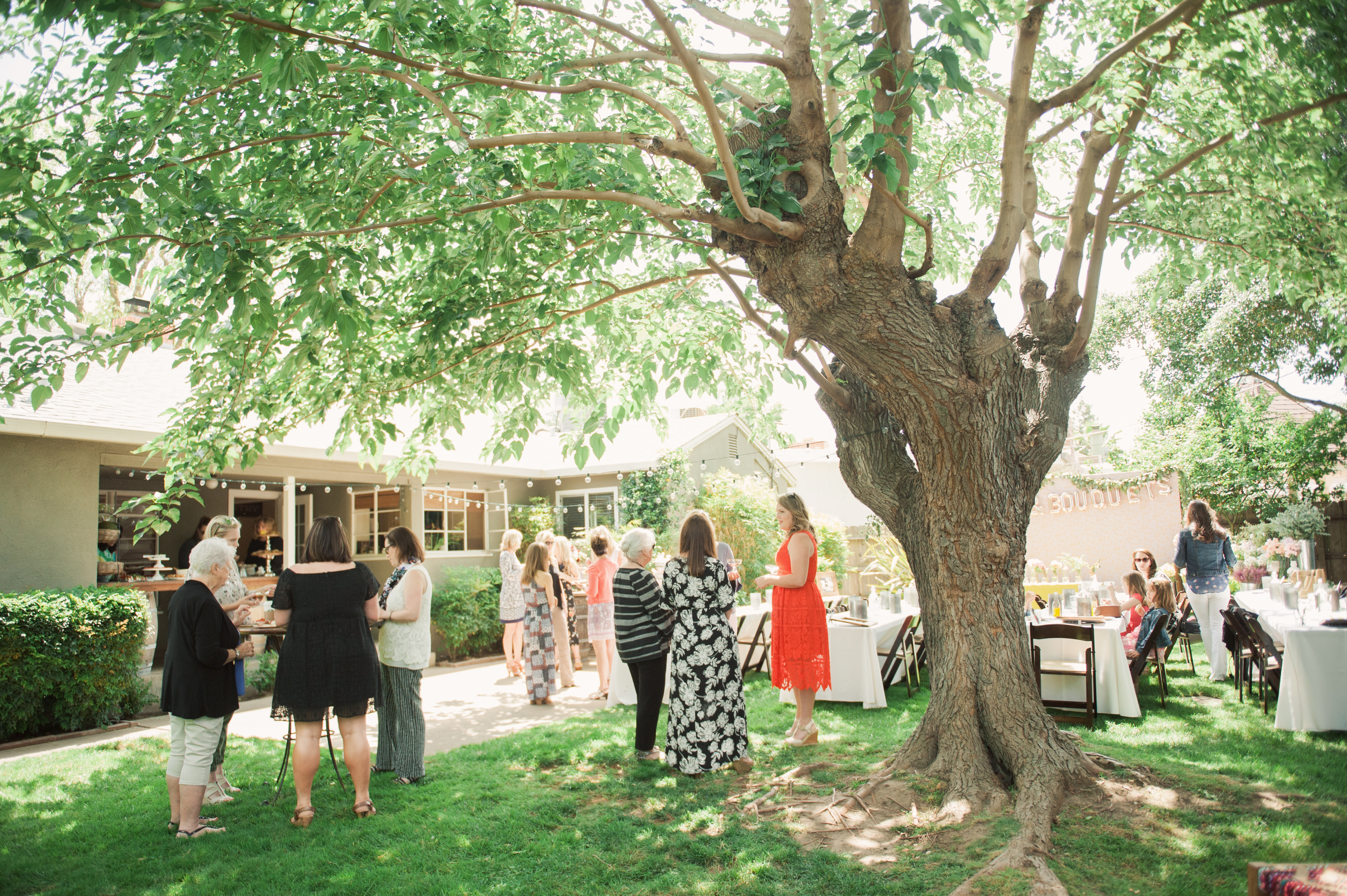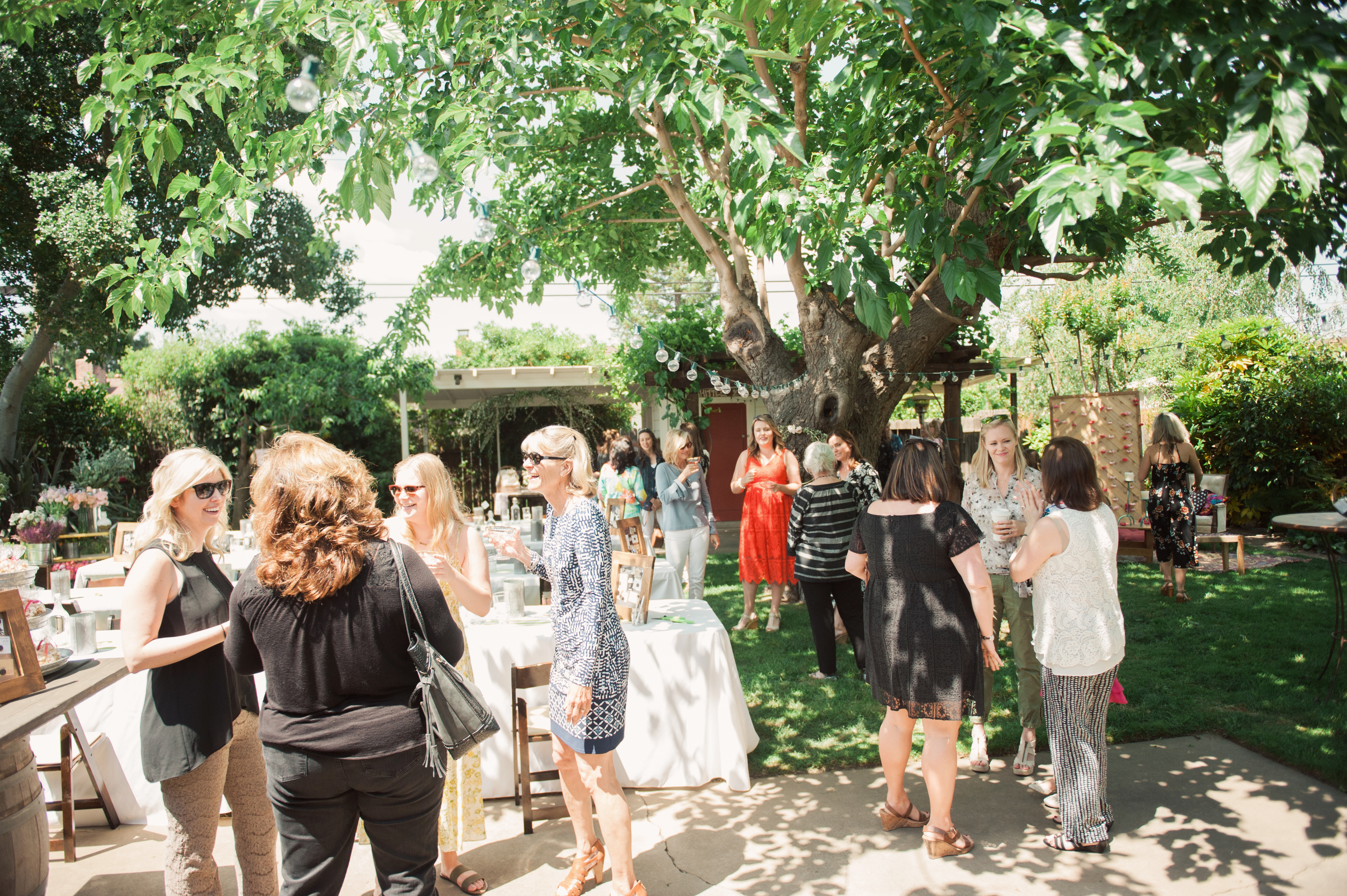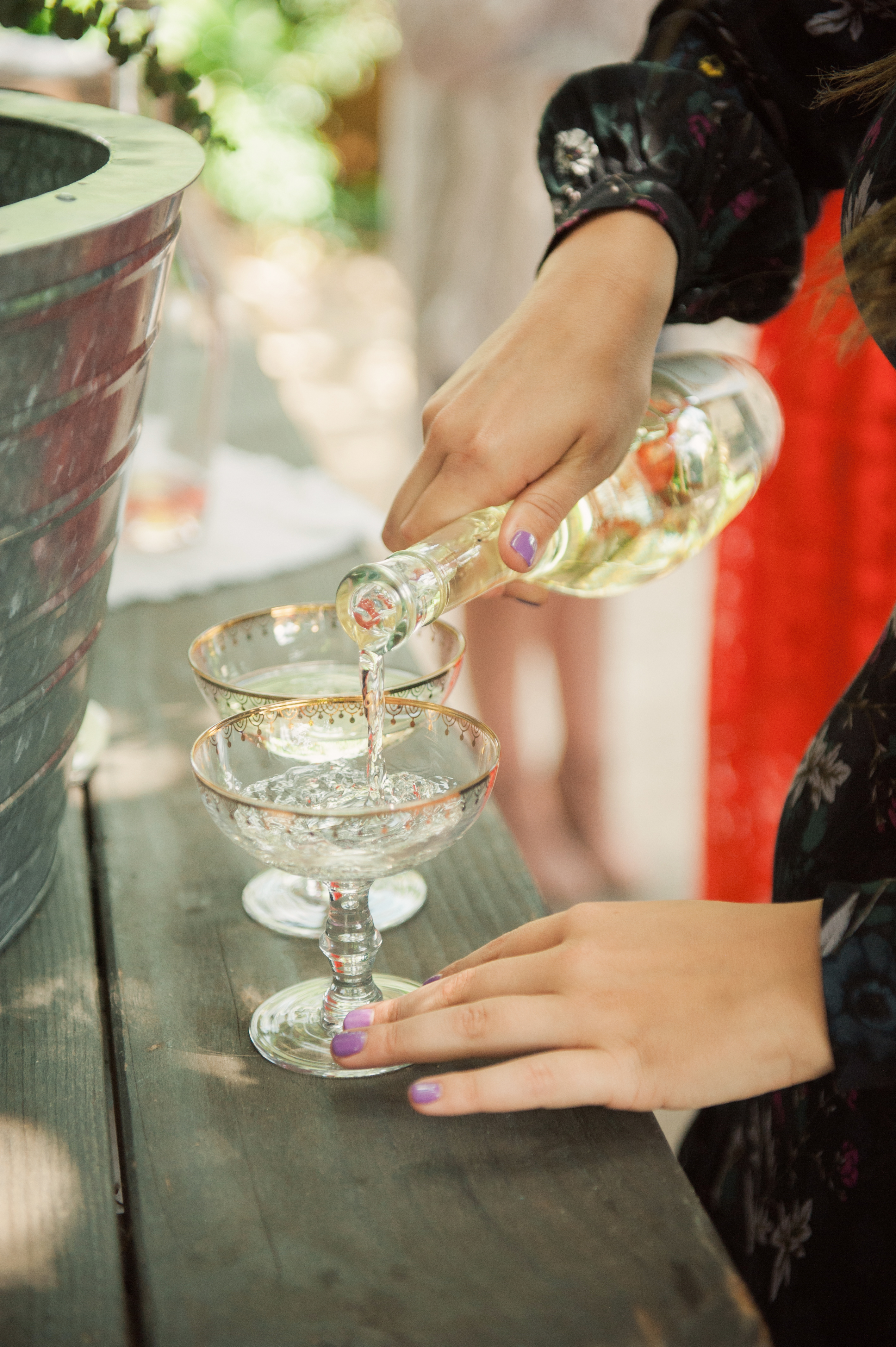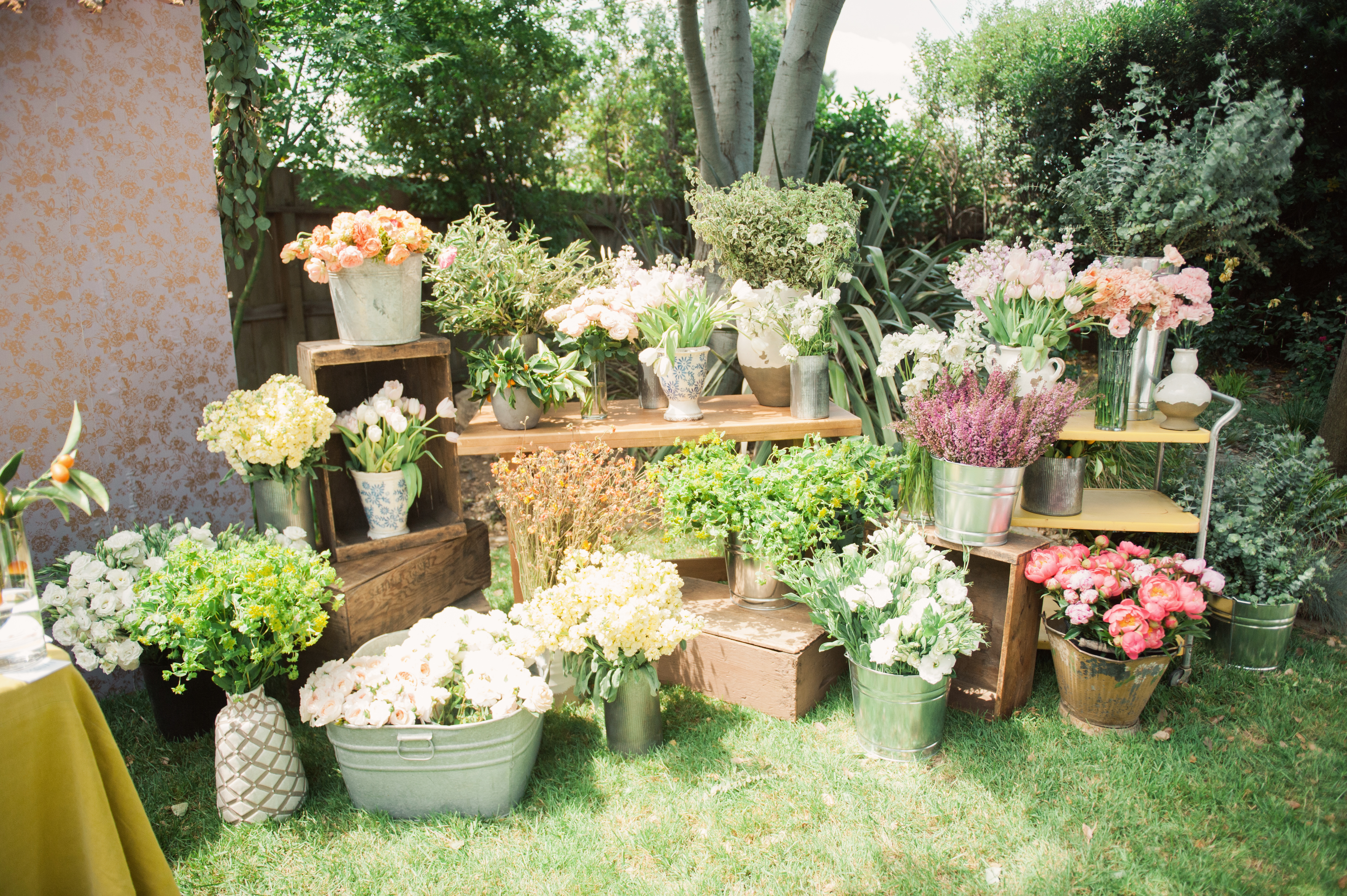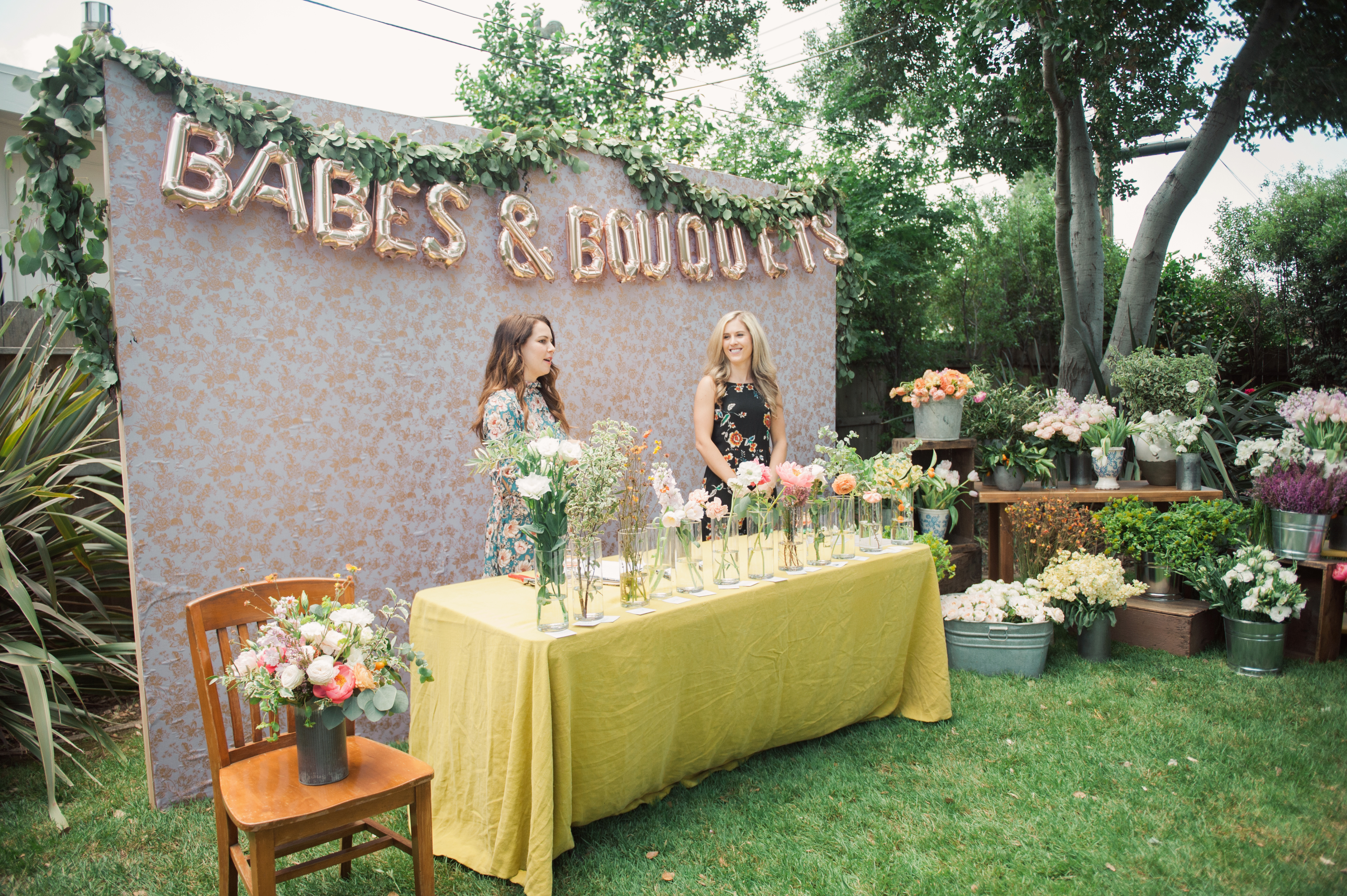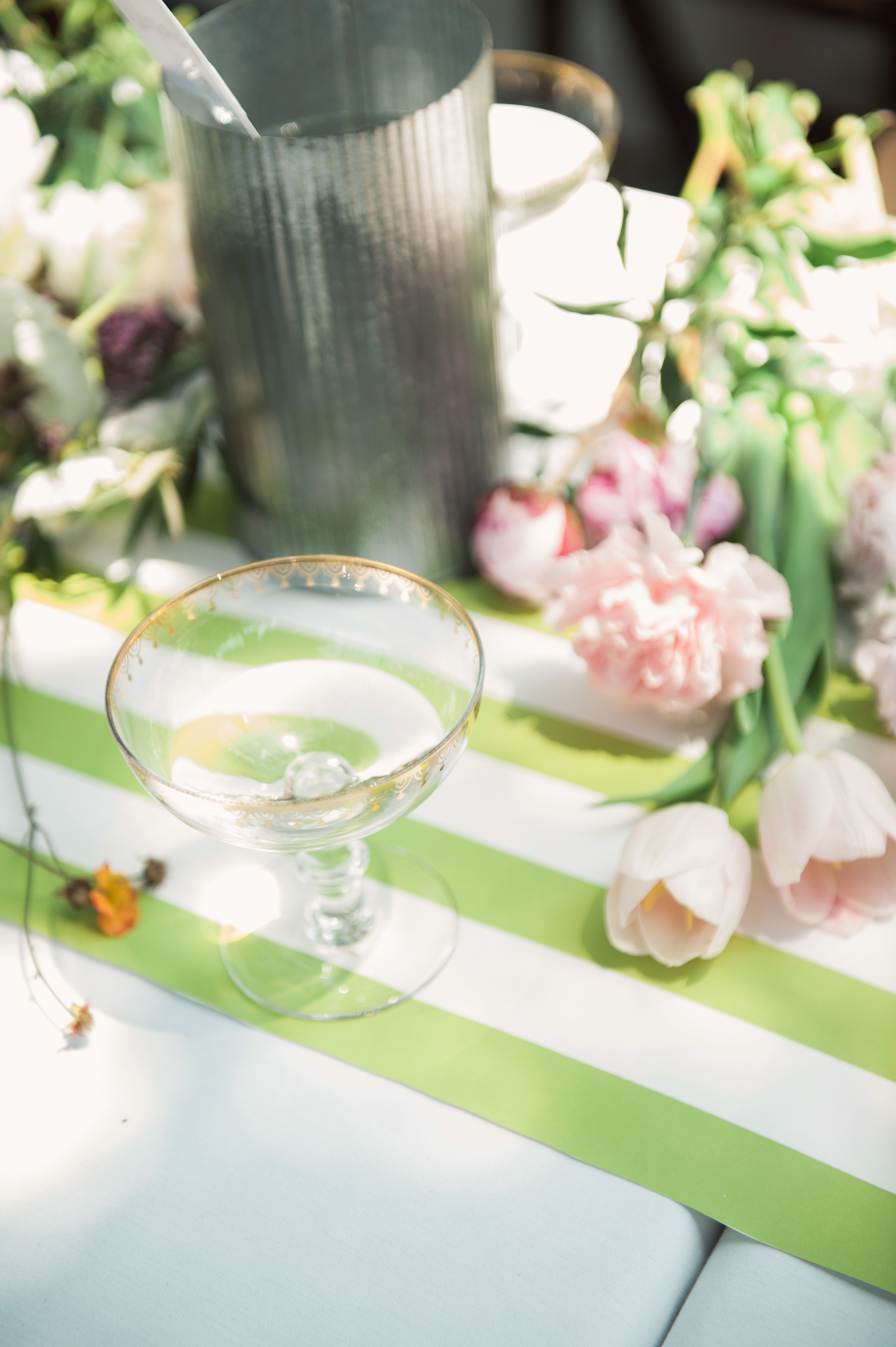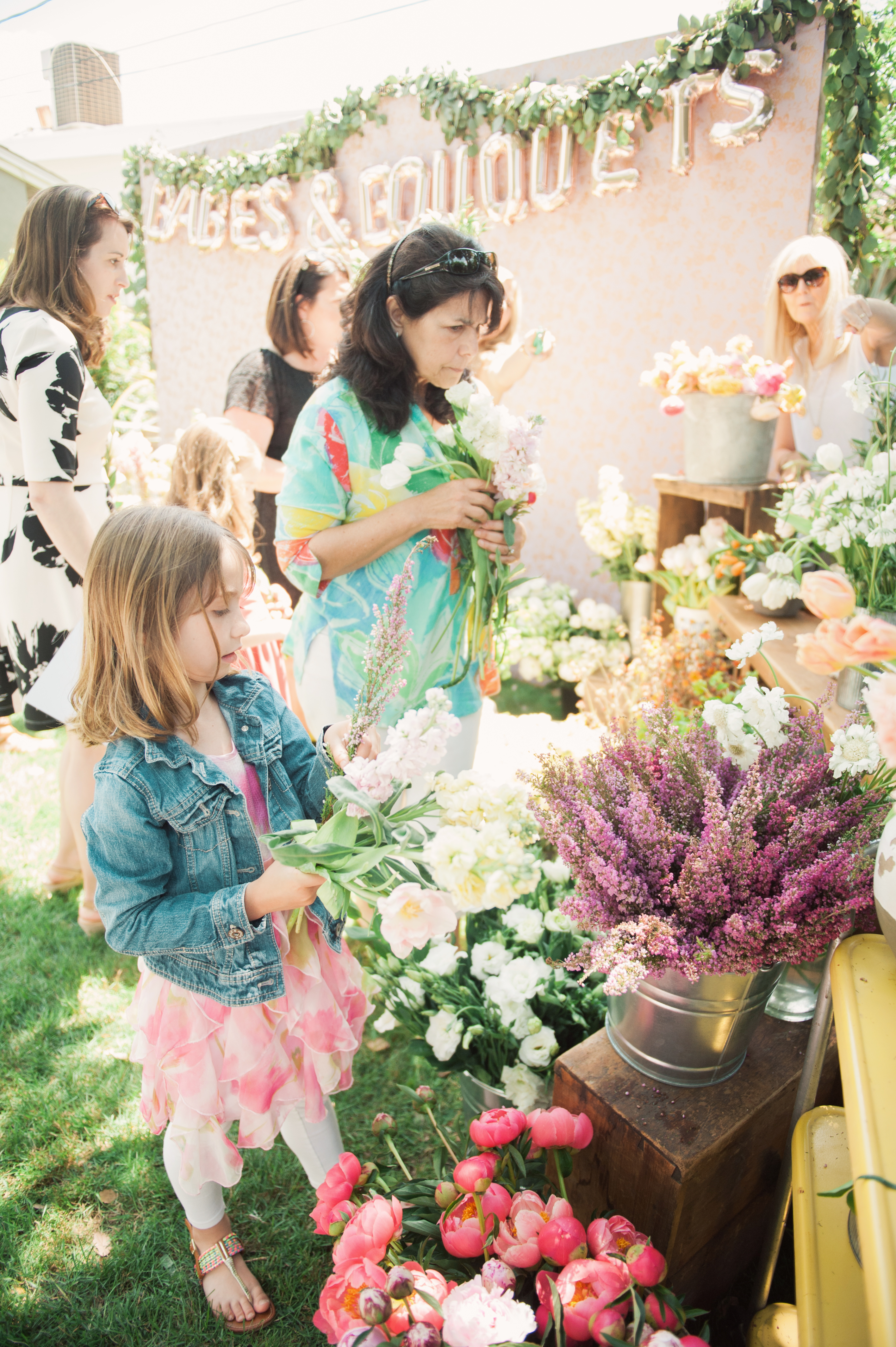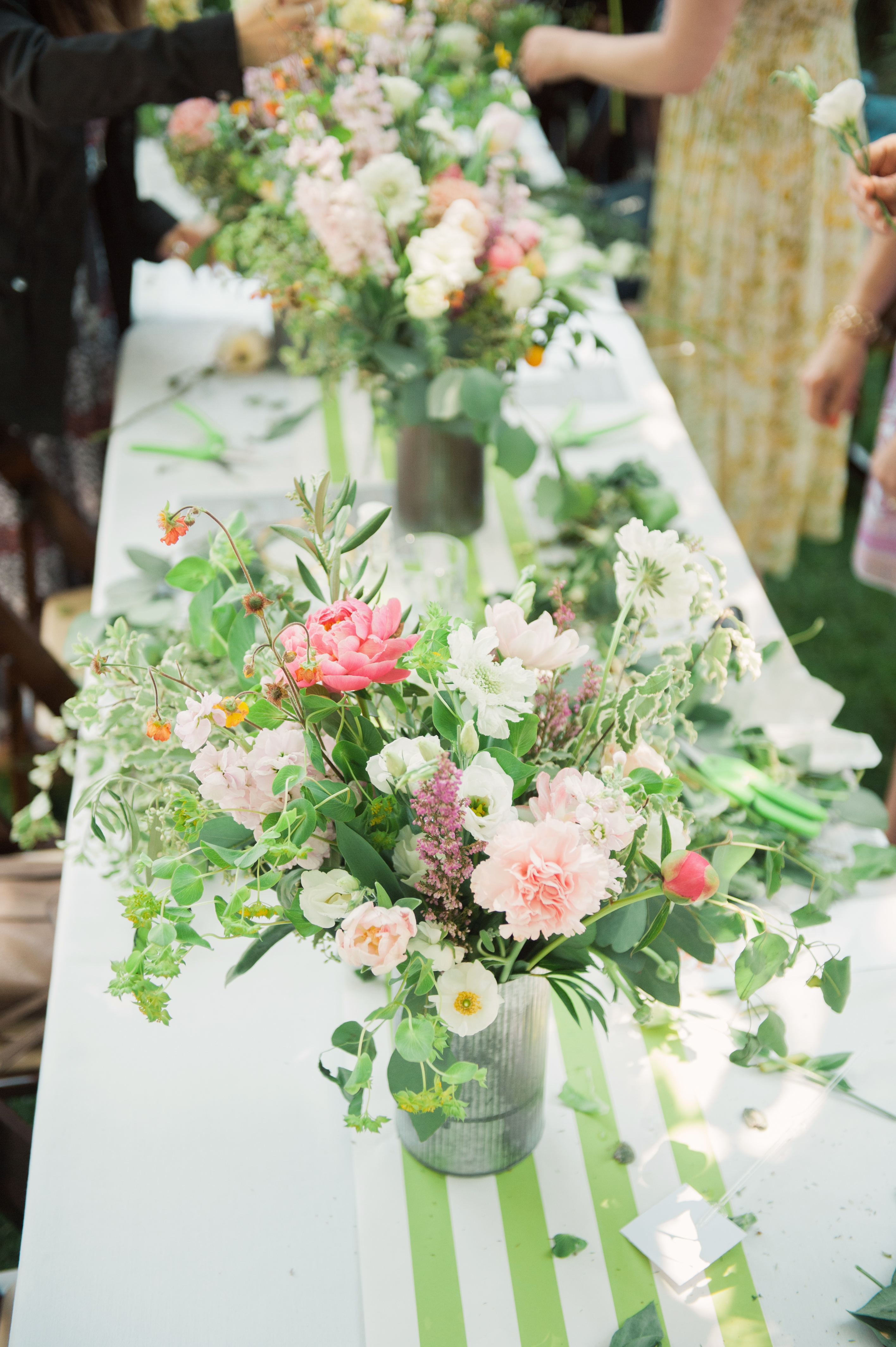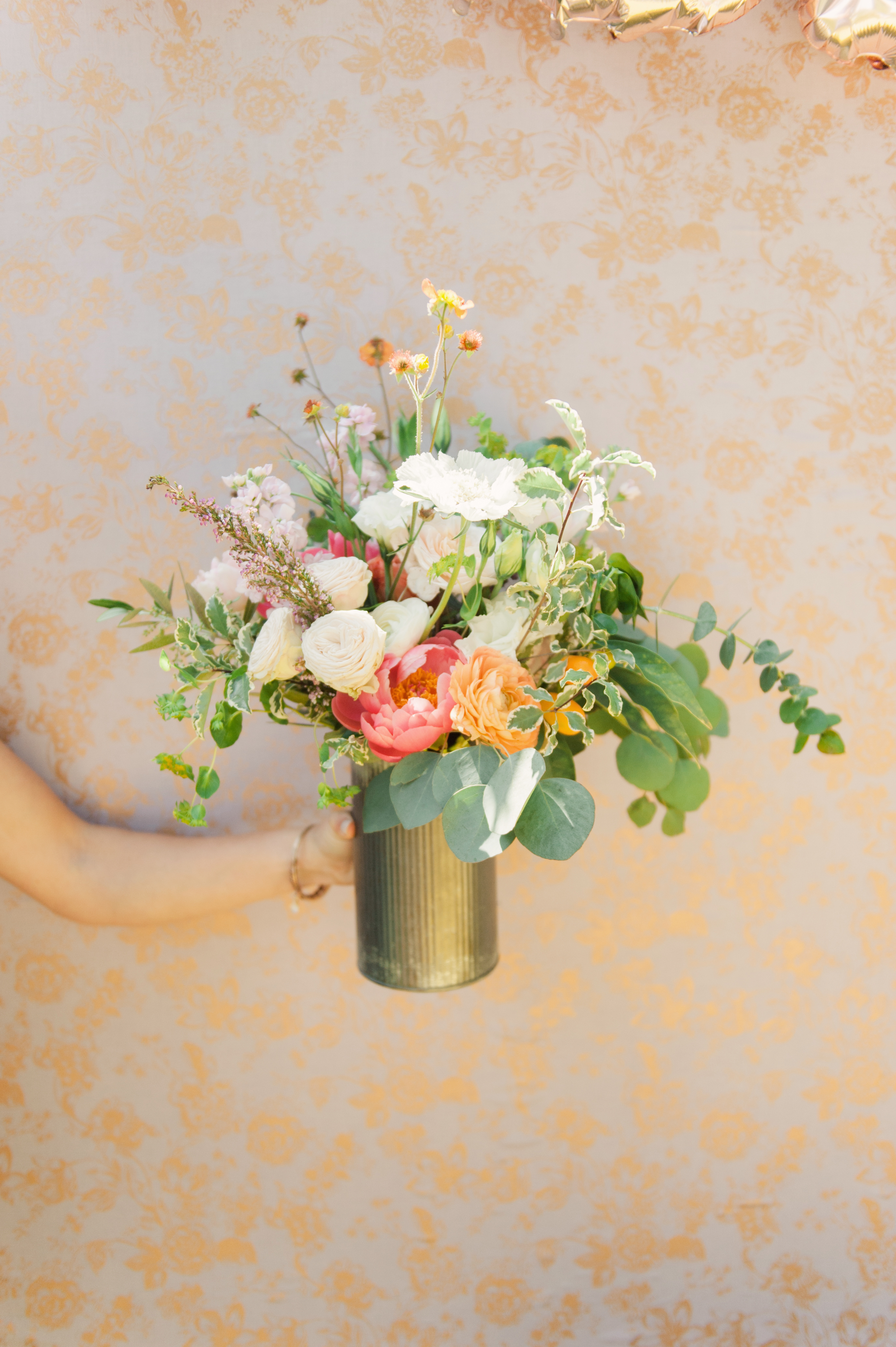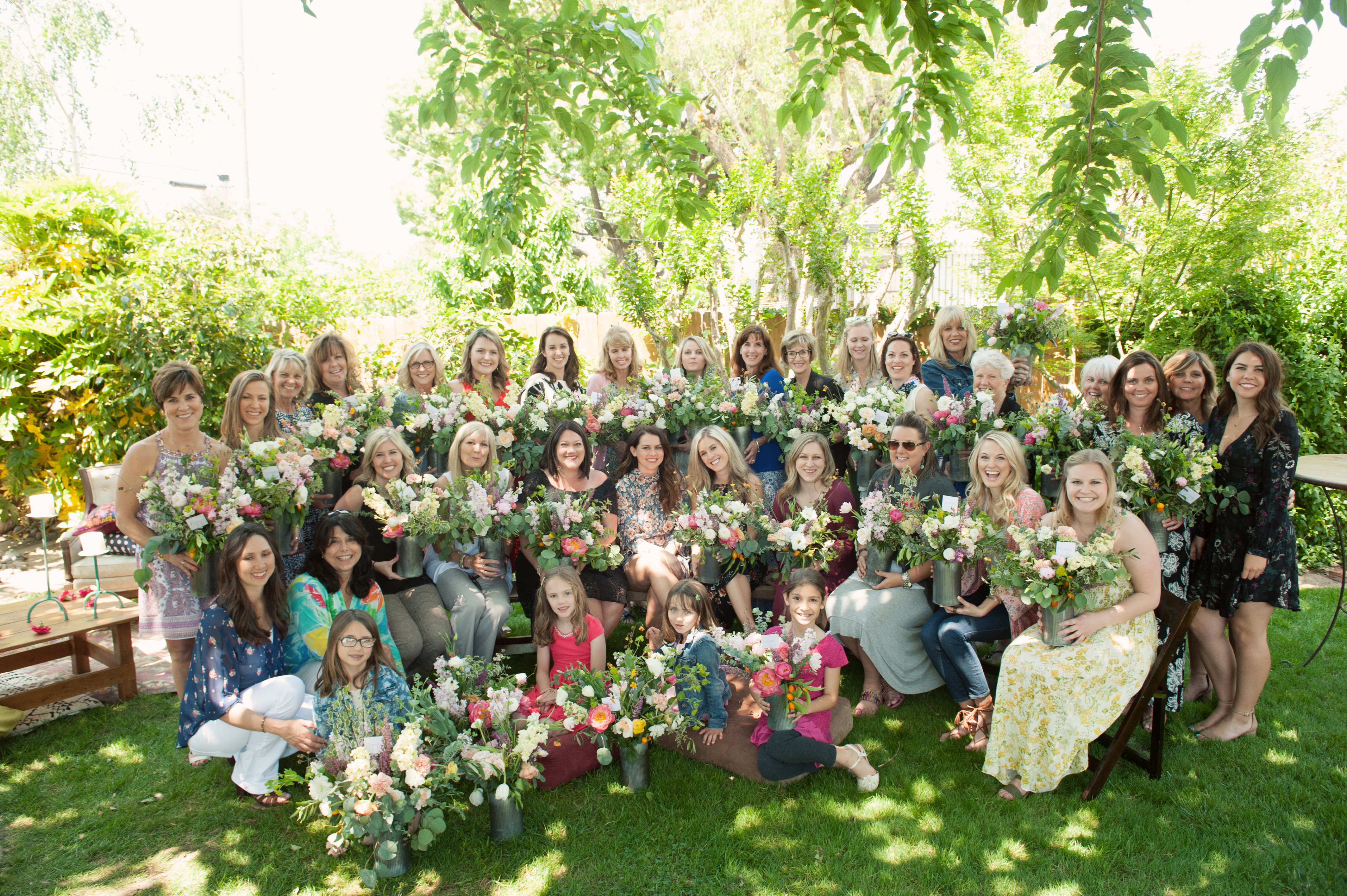 Photography by the AMAZING Ashley Maxwell Photography
---
DETAILS
Floral Designer: Anna Sinclair of Huckleberry Blooms
Rentals: Bella Festa
Decor Sponsor: Boxwood • Finch
Catering: Ashley Tassano of The Rustic Carrot
Wine Sponsors: Oak Farm, Acquiesce, and Michael David
Babes + Bouquets "wall" and magnet boards: Sargent Road Company
Caramel Corn: Rustic Crunch
Chocolate Chip Cookies: Huckleberry Bloom's lovely mother, Nancy
Calligraphy: My sister, Kenzie Hittle
Stationary: Made on Canva
Maddies Dress: Nordstrom (sold out, but similar here)
To all attendees, thank you for hopping on board my crazy train and being the most gracious guests ever. I promise you that all the love and attention you poured into your arrangements were accepted well. The Pregnancy Resource Center's mothers were incredibly grateful and felt VERY loved because of you.
To our amazing vendors and sponsors: Thank you again for your generosity and support in making this day extra special.
A special thank you to Anna, my partner in crime, this could NOT have happened without your drive, encouragement, commitment, talent and shared love for all things pretty. I am so proud of you and your new, thriving floral design business.
For those of you who are wondering if we will host another Babes + Bouquets event…we definitely will!! If not sometime again this year, for sure next Mother's Day! Stay tuned…
xoxo, maddie